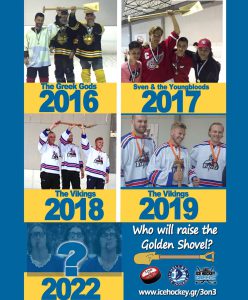 Who will raise the Golden Shovel? Will it be a 3-peat for the Vikings?Will the Greek Gods win it for a second time? Will the Youngbloods raise it without Sven or will there be a new Champion?
Come see the action May 21st at Ice N Skate arena.
---
Ποιος θα σηκώσει το Χρυσό Φτυάρι; Μήπως οι Vikings από τη Σουηδία θα κάνουν το 3-peat?
Μήπως οι Greek Gods θα το σηκώσουν για 2η φορά; Μήπως θα το σηκώσουν οι Youngbloods χωρίς τον Sven ή θα δούμε νέο νικητή;
Ελάτε να δείτε ωραίο χόκεϋ στις 21 Μαϊου στο παγοδρόμιο Ice N Skate.