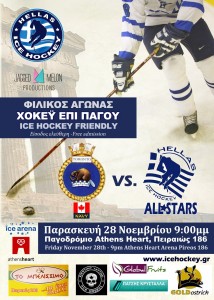 The All-Stars of the Greek Ice hockey league, comprised of players from Iptameni and Albatros, will play a friendly game against sailors from the Canadian Navy that will be in Pireas during the last week of November.
The game is scheduled for November 28th at 9pm at the Athens Heart ice rink located on Pireos 186 in Athens.
Admission is free for anyone that would like to come and watch a great ice hockey game.