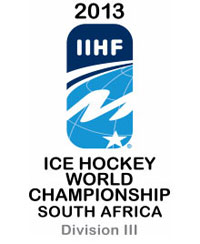 The 2013 IIHF World Championship is over and the National Team left Cape Town with mixed feelings.
Our National team represented Greece once again in this very important international event, and had to compete against experienced opponents in conditions outside the Greek reality.
The lack of proper preparation of our athletes, had an obvious negative impact on their performance and the final results. The players were obviously disappointed by the final standings. Disappointment, because everyone knows that if the players of this team had the opportunity to train in an Olympic size ice rink and at reasonable hours, they would have accomplished amazing results.
Despite all these factors, the appearance of the national team was successful!
This year the National Team was composed not only by the well-known experienced athletes who kept the level of the Team high for the past years, but also by new players who helped significantly and gave new hope to the team. Both our goalies, Spyros Ploutsis and Georgios Fiotakis, gave their best, protecting the net of the National Team once again! Despite the many serious injuries, our athletes did not give up and kept fighting until the last minute, to make us proud again!
The scorers of our National Team were Panagiotis Koulouris, Dimitris Kalyvas, Nikolaos Papadopoulos, Georgios Kalyvas, Lefteris Fournogerakis, Alexandros Valsamas-Rallis, Ioannis Koufis, Orestis Tilios, Kyriakos Adamidis and Iason Pachos. Of course all the other athletes, Polykarpos Amanatidis, Nikos Chatzigiannis, Georgios Kouleles, Diogenis Souras, Pavlos Kasampoulis, Marios Libertos, Antonis Kanellis and Dimitris Malamas, also contributed in order for the National Team to have a good presence in the World Championship.
Most Valuable Player of the Championship for our National Team was Panagiotis Koulouris.
Special thanks to ETALON, who sponsored the National Team.
Special thanks to all the Greek fans that supported the National Team, by either coming to the ice rink or by sending words of encouragement. THANK YOU!