Proposal for modification of:
Bylaw 412: Minimum Standards to participate in IIHF Ice Hockey Men's World Championship
 Firstly, before presenting our proposal for modification of Bylaw 402, we would like to present the current status of Ice Hockey in Greece and the impact of Greece's National Team removal by the IIHF from participating at the World Championships. We are confident that our proposal can help all lower division countries develop the sport in a more structured and monitored fashion.
With the dire financial situation that Greece is in, an Olympic size rink will not be a reality in the near term without the aid of some sort of financial angel benefactor. Despite the difficulties though, and because of an undying love of the game, some former athletes took the risk and invested in an ice rink.
Greece has now 3 permanent indoor ice rinks, open 10 months a year:
They are not Olympic size, but ice hockey is absolutely still being developed in these facilities. It's not easy, but the sport in still alive.
The IIHF decision to exclude the Men's National Team from International competition has had devastating results for the sport of ice hockey in our country. In only three years after this decision, and the effects have been catastrophic.
In 2013, 11 Men's teams participated in the Greek National League. http://hisf.gr/icehockey/?page_id=200 
Today, only a few teams are left; that play scrimmage hockey once a week, and organize friendly games against visiting teams from abroad. All other teams have folded or are on hiatus.
In the below chart, you can clearly see the Player registration and Team development between 1999 and 2016, and how the National Team participation has aided in the growth of both these figures. You can also see the severe negative impact that non-participation of our National team has, not only in the present time but also in the past.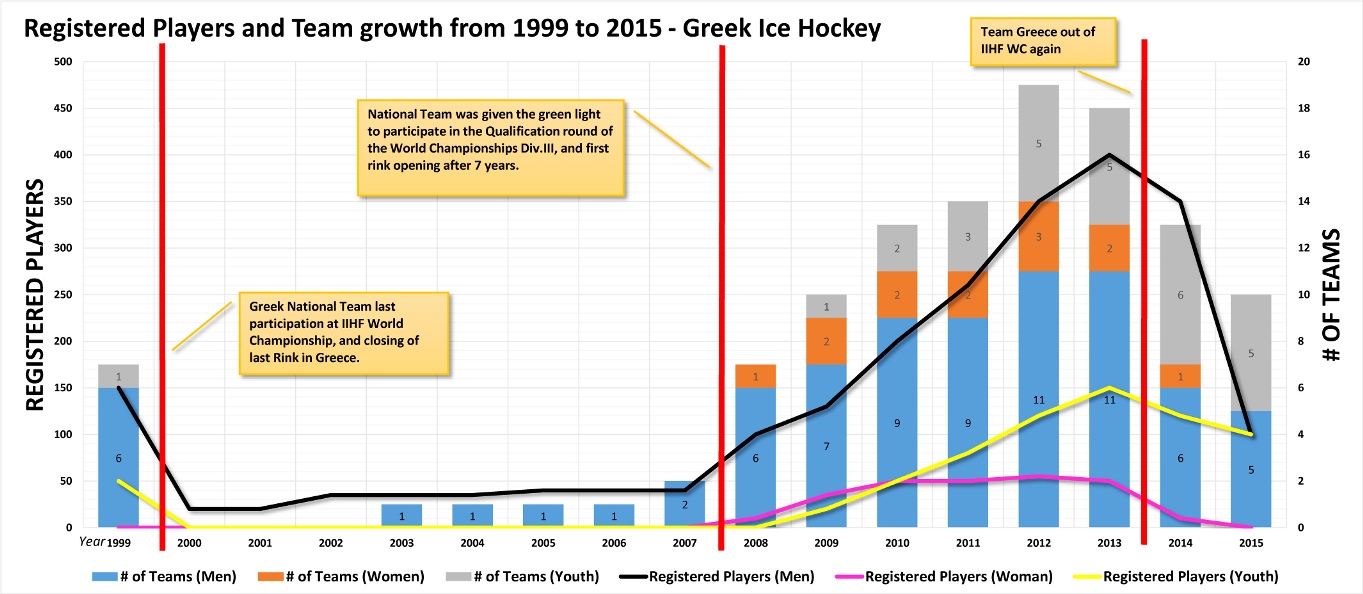 In 2013, weeks before the IIHF decision to exclude Greece (together with Ireland and Mongolia) we had sent the IIHF office a long letter explaining what exactly the National Team means to our country. In that letter, we went to great lengths to articulate that in other countries, the National Team is on the top of the pyramid when it comes to the development of the sport, but in Greece the pyramid is upside down – The National Team is the foundation that keeps everything else in place. Similar to any structure, if the foundation is removed, then everything above it will collapse.