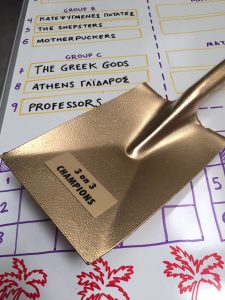 The 3-on-3 tournament was successfully completed, held for the first time in Greece. It was a real celebration of the sport that brought together athletes of male, female and kids hockey! Athletes without clubs and colors created teams for the sole purpose to have a good time and enjoy the sport they love.
Winners, after almost four hockey hours, were The Greek Gods, with John Lachance, John Kokkono and Anthonis Kanellis, who beat The Scandinavian Flying Ice Mangos with Marcus Filipsson, Diogeni Soura, Alex Valsamas-Rallis and Alexandra Kovats. In the final were also the Frozen Potatoes with Jason Pachos, Themis Lambridis, Palvos Kasampoulis and Konstantino Koufopoulos.
Congratulations to all teams and all athletes!
See you again in September to see who will raise again the GOLD SHOVEL!